What Protects You from Lightning in Florida?
March 17, 2020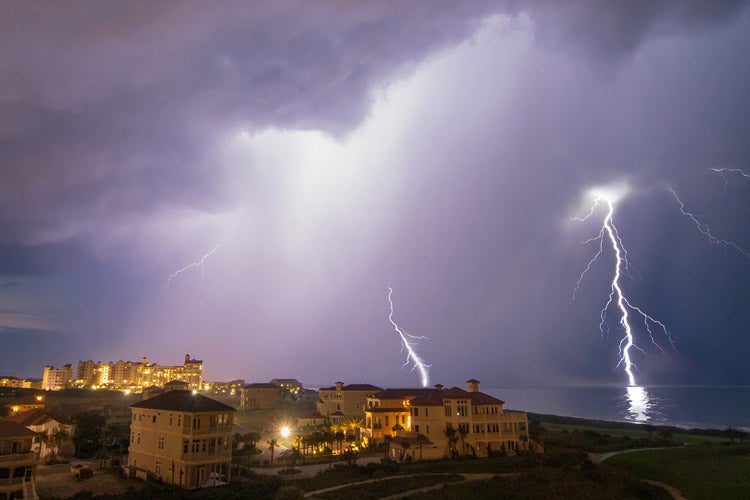 According to the National Fire Protection Association, from 2007 to 2011 local US fire departments responded to an average of 22,600 fires per year that were started by lightning. These lightning-related fires caused an average of nine civilian deaths and $451 million in direct property damage per year.
Also, according to the Insurance Information Institute:
More than $900 million in lightning claims were paid out in 2018 to nearly 78,000 policyholders across the US.
Florida was the top state in the US for lightning claims in 2018, with 7,108 claims.
Lightning-related claims in Florida totaled $74.2 million in 2018, or $10,436 per claim on average.
How to Prepare for a Lightning Storm in Florida?
Thunderstorms that include dangerous and destructive lightning are common in Florida. In fact, Florida has the highest incidence of lightning in the US. How can you prepare for a lightning storm in order to minimize the damage and stay safe?
Know your local risk for thunderstorms. In Florida, they can occur year-round and at any hour.
Sign up for your local emergency warning system. The Emergency Alert System (EAS) and National Oceanic and Atmospheric Administration (NOAA) Weather Radio also provide emergency alerts.
Cut down or trim trees that may be in danger of falling on your home.
Consider buying surge protectors, lightning rods, or a lightning protection system to protect your home, appliances, and electronic devices.
Also, make sure you've got appropriate Florida homeowners insurance, renters insurance, Florida auto insurance, and Florida business insurance. These will help you pay for lightning damage to your home, your personal possessions, your car, and your commercial property.
Where Are Lightning Strikes Most Common?
Florida is the most lightning-prone state in the US. The state experiences an average 25.3 lightning strikes for every square mile, and an average of 1.45 million lightning strikes each year.
Florida experiences a lot of lightning because it sits between the Atlantic and Gulf Coasts, and the sea breezes combined with the tropical heat and humidity create the ideal conditions for thunderstorms that contain lightning.
How Can I Protect My Home, Car, and Business from Lightning?
There are some steps you can take to protect your home from lightning. These include:
Consider installing a lightning protection system for your home or business. A lightning protection system will not prevent your house from being struck by lightning, but will instead provide a safe path from the location of the lightning strike (usually the roof) to the ground, minimizing the damage. If your home does not have a lightning protection system, the surge of electricity will carry along any conduit it can find, including your water pipes, gas pipes, and wiring systems (including cable or telephone lines), damaging everything in its wake and potentially igniting a fire.
Unplug appliances and electronic devices. In addition to causing fires, lightning can create a power surge that damages your home or business electronics. If your appliances and electronics are unplugged during the storm, you can avoid some extensive and expensive damage.
Install surge protectors. Unplugging electronics is always the best option, but lightning storms will still happen while you're not at home or at work. Transient voltage surge protectors will limit voltage flowing to your electronics to 1.5 times the normal voltage, thereby limiting the damage that a large surge could cause.
Lightning can badly damage or destroy your car as well. If you're in the path of a lightning storm, try to park under an overpass or in a covered garage or parking space.
What Insurance Do I Need to Cover Lightning Damage in Florida?
Your standard homeowners and business insurance policies, and the comprehensive portion of an auto insurance policy cover damage that results from a lightning strike.
For homeowners or renters, your Florida homeowners or renters insurance policy includes:
Dwelling coverage: This covers the physical structure of your home and any attached structures from certain covered perils, including lightning. It also covers items like plumbing, heating, and permanently installed air-conditioning systems, and electrical wiring.
Other structures coverage: This covers lightning damage to other structures on the property such as detached garages, tool sheds, retaining walls, and so on.
Personal property coverage: This covers the cost of repairing or replacing your personal belongings, like your furniture, clothing, and electronics if lightning causes a fire or some other type of damage.
Loss of use coverage: This helps you with additional living expenses if your home is damaged by a covered peril (e.g., lightning) and you cannot live in your home while repairs are being made. It typically covers expenses like housing, meals, storage, and more, as long as they are in line with your usual living expenses.
For business owners, your commercial property insurance covers damage to your business property (your building if you own it, and your inventory, materials, supplies, office equipment, furniture, and so on) if damaged by a lightning strike and/or resulting fire.
You can also cover lightning damage to your vehicle with your Florida auto insurance policy. Comprehensive coverage is an optional auto insurance coverage that pays for losses that result from incidents other than a collision including theft, fire, vandalism or malicious mischief, weather (including lightning), birds or animals, glass breakage, falling objects, explosion or earthquake, windstorm, hail, and more.
How Can an Agent Help Me Protect Myself from Lightning in Florida?
Florida independent insurance agents know about the weather risks in Florida and the insurance coverage that you need to protect yourself. Independent agents aren't tied down to one insurance company, so they can get you multiple quotes for auto, renters, homeowners, and business insurance that protects you from lightning and any other risks that you face.
https://www.ready.gov/thunderstorms-lightning
https://www.iii.org
https://www.cdc.gov/disasters/lightning/
https://www.nssl.noaa.gov/education/svrwx101/lightning/faq/
https://www.worldatlas.com/
©

2021

, Consumer Agent Portal, LLC. All rights reserved.