What Does Business Owners Policy Insurance Cover in Florida?
July 13, 2021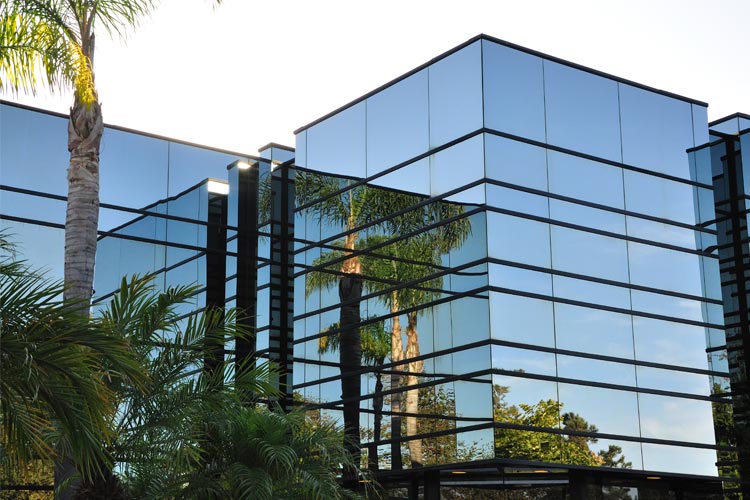 Florida is home to 2,500,000 small businesses. Every business is unique, but one thing they have in common is the need for business insurance.
Business insurance is highly customizable, so a Florida independent insurance agent is a great person to help you build an insurance package that fits your needs. Here's why your Florida business may want a business owners policy.
What Is Business Owners Policy Insurance?
Business owners policy insurance, also known as BOP, is a combination of common business insurance policies packaged at an affordable price. It's available for small to medium sized businesses and is designed to provide the coverage that most businesses need through one convenient policy.
What Does Business Owners Policy Insurance Cover?
Any risks that can lead to your business being sued or experiencing a large financial loss need protection through insurance. A Florida business owners policy will cover multiple risks and causes of loss through three types of coverage.
It's likely that your business will need some additional insurance coverage. A Florida independent insurance agent can sit down with you to discuss add-ons, riders, and other policies that could benefit you.
10 most common insurance claims for small businesses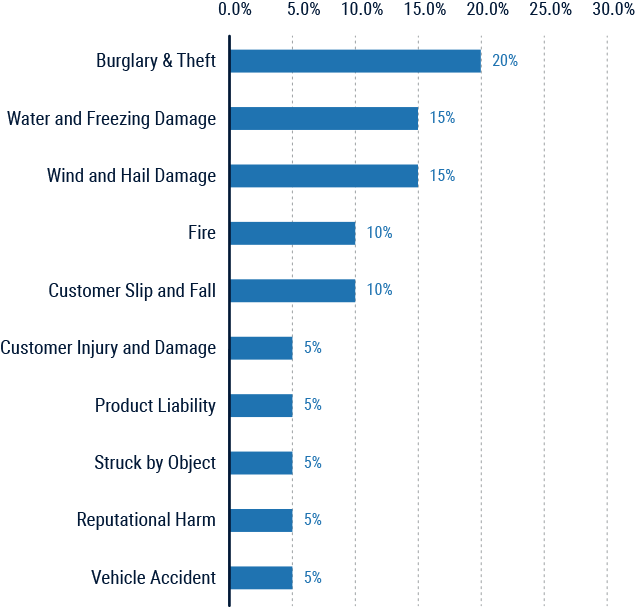 20% of businesses experience burglary and theft.
What Doesn't Business Owners Policy Insurance Cover?
Business owners policies are a great place to start for most small to medium sized businesses. However, BOPs have some exclusions and you will not receive coverage for some critical situations.
Common exclusions in business owners policy insurance
Employee injuries and illnesses
Damage from flooding or earthquakes
Lawsuits related to professional mistakes or negligence
Employee dishonesty claims
Company vehicles
Data breaches
Equipment breakdown
Burglary
In addition to the above exclusions, insurance expert Paul Martin noted that BOPs also will not cover damage from nuclear war, intentional acts, and software failure.
How Much Does Florida Business Owners Policy Insurance Cost?
Business insurance premiums are based on a number of factors calculated by insurance carriers. While it's difficult to put a blanket price on BOP insurance, Martin said that business owners could save a lot of money by opting for a business owners policy instead of general business insurance.
"It's more affordable than buying policies individually," said Martin. "It can be as much as 50% cheaper depending on the business."
To find the best rates, work with your Florida independent insurance agent to shop multiple carriers and quotes.
Additional Coverages to Business Owners Policy Insurance
Most businesses will need more protection than is offered through a basic business owners policy. The good news is that your insurance agent can help you add as many policies as you need to cover the risks of your business.
Most businesses will benefit from adding the following policies
Flood insurance: The National Flood Insurance Program (NFIP) requires more flood insurance policies in Florida than in any other state.
Workers' compensation: Florida law requires all businesses to have workers' compensation.
Professional liability: A BOP will not protect you or your business if you're sued for professional negligence or other types of professional liability.
Automobiles: A commercial auto policy is necessary to cover any vehicles that are used for business operations.
Cyber liability: Most businesses are at risk of data breaches.
Boiler & machinery coverage: This equipment insurance covers any electric equipment, including AC units and boilers, should they break down or experience a power surge.
Product liability: Protects manufacturers, sellers and distributors should a product defect result in personal injury or damage while being used.
Robbery and safe burglary coverage: Robbery is the most common insurance claim for small businesses.
Who Needs Business Owners Policy Insurance in Florida?
Every year, insurance carriers pay out more than $36 billion in commercial insurance claims in Florida. For most small to medium sized businesses, the price of individual business insurance policies is not feasible given their annual revenue. However, every business needs insurance, and that's where a BOP comes in.
Whether you think a business owners policy is right for your business or not, a good place to start is seeing if you meet the guidelines for a business that qualifies for a BOP. This includes:
Must have 100 employees or less
Revenue is $5 million or less
Must be low-risk
The most common businesses that use BOPs include restaurants, veterinarians, retail stores, salons, and professional services.
Any small to medium business that is looking for an affordable business insurance option that provides adequate coverage can start with a business owners policy and build from there.
How Can a Florida Independent Insurance Agent Help?
Business insurance is critical to keeping your doors open and your business operating at full capacity. Should something go wrong, you don't want to get caught without coverage. A Florida independent insurance agent is there to help.
They will chat with you, free of charge, to learn about your business and the risks you face. They'll shop multiple business insurance carriers for you, and recommend proper coverages. Whether you're a brand new business or reassessing your coverage, an independent insurance agent is the best place to start.
https://floridafloodinsurance.org/flood-facts
https://advocacy.sba.gov/2019/04/24/2019-small-business-profiles-for-the-states-and-territories/
©

2021

, Consumer Agent Portal, LLC. All rights reserved.