Florida Commercial Property Insurance
April 16, 2021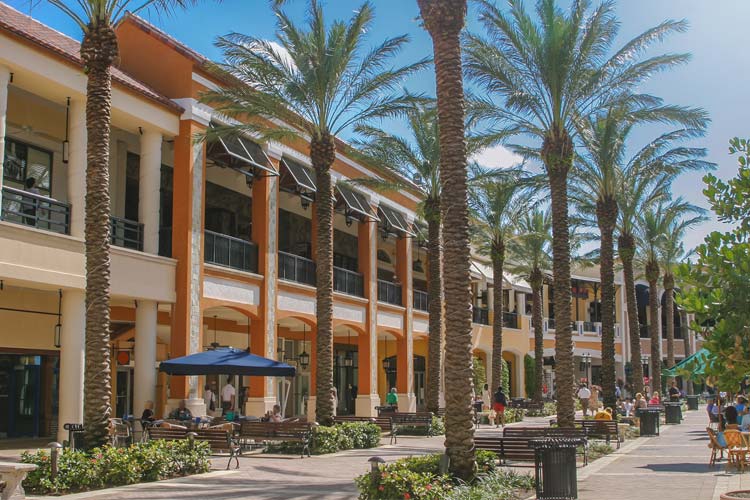 Your business depends on several different types of property to function. From the exterior building it's housed in down to your inventory and products, all these kinds of property need to be protected against numerous risks. That's why having the right commercial property insurance is so important.
Fortunately, a Florida independent insurance agent can help you find the right kind of commercial property insurance for your company. They'll get you equipped with more than enough coverage, long before you ever need to file a claim. But before we jump too far ahead, here's a closer look at commercial property insurance.
What Is Commercial Property Insurance?
A critical aspect of Florida business insurance is commercial property insurance. Coverage can be applied to business equipment as well as the structure, inventory, and products inside. Since commercial property is prone to numerous perils, including theft, fire, and more, having the right protection for it is critical to your business's success. A Florida independent insurance agent can help your business get set up with the policy that works best for your needs.
What Does Commercial Property Insurance Cover?
Commercial property insurance in Florida helps to protect many types of business property from numerous threats. This coverage is just one part of a complete Florida business insurance package. The core coverages provided by the commercial property insurance aspect include:
Buildings and structures: Can be insured for their replacement value at the time of a disaster, or for their actual cash value.
Contents: Includes business property that's stored on or near the business's main premise and used for the business's operations. Contents can include business inventory, materials, computers, and other machinery or equipment.
Property in your care: If a business is legally responsible for property that belongs to others but is currently in their care, custody, and control, commercial property insurance can cover it from many perils. Repair shops that temporarily keep customers' items especially rely on this coverage.
A Florida independent insurance agent can further explain the basic coverages provided by the commercial property insurance aspect of a business insurance package.
What's Not Covered by Commercial Property Insurance in Florida?
Like all other forms of insurance, commercial property coverage also comes with its own set of exclusions. Many commercial property policies exclude these perils:
Equipment breakdown
General wear and tear
Flood and earthquake damage
Commercial vehicles
To guard your business's property against flood or earthquake damage, you'd want to work with your Florida independent insurance agent to get set up with a flood insurance and/or earthquake insurance policy. Also, to cover your business's fleet, you'd need commercial auto insurance, since commercial property insurance does not cover vehicles.
How Much Does Commercial Property Insurance Cost?
The cost of your commercial property insurance policy will depend on a number of factors. The median cost of this coverage, however, is $755 annually for $60,000 in coverage. You can buy commercial property insurance from many different insurance companies, some of which may offer more discounts than others.
Top 10 Writers of Commercial Lines Insurance by Direct Premiums Written, 2019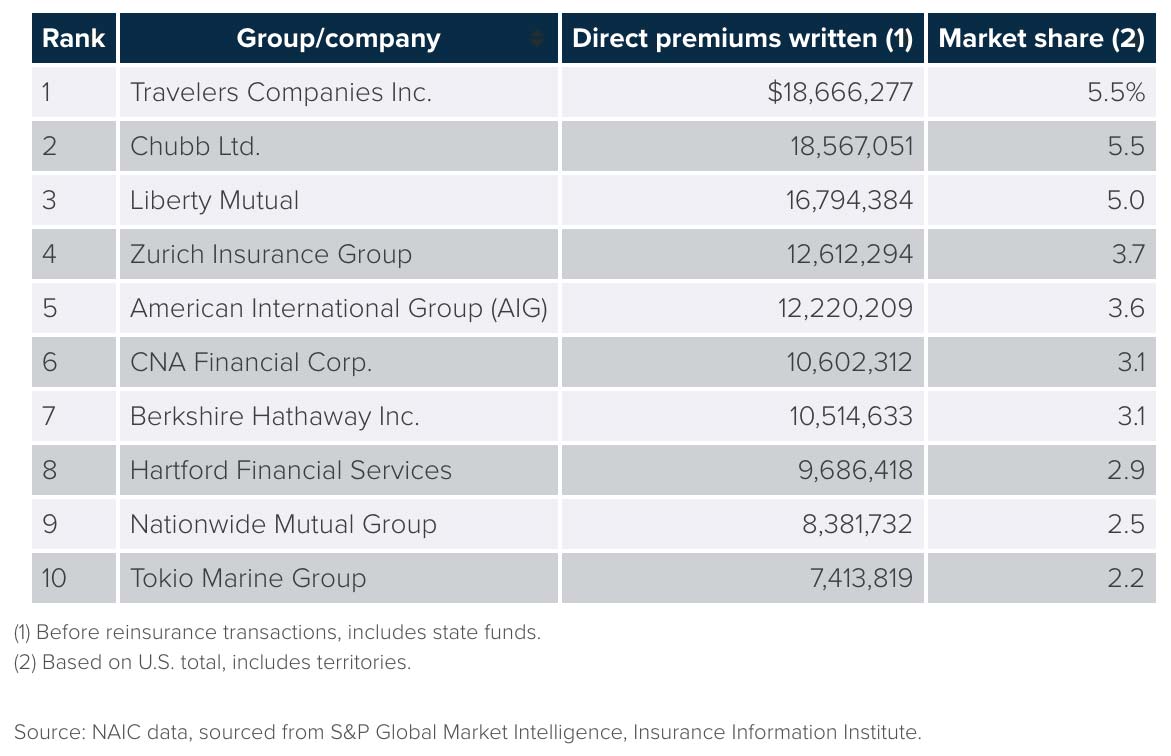 In 2019, some of the top commercial lines insurance companies by direct premiums written and market share included Travelers, Chubb, and Liberty Mutual. Travelers and Chubb both wrote more than $18,500,000 in premiums that year, and were tied at 5.5% of the market, each.
Your Florida independent insurance agent can help recommend the right insurance company to meet your business's commercial property coverage needs.
Who Needs Commercial Property Insurance?
Pretty much any business in Florida needs commercial property insurance. Coverage is critical to protect your business's buildings, contents, and property temporarily in your custody. All commercial property is vulnerable to many threats, from theft to explosions and beyond.
Without the right commercial property coverage, your business could end up losing a ton of money to repair or replace a critical component of its structure or interior workings after just one disaster. A Florida independent insurance agent can further explain why your business could benefit from commercial property insurance.
Commercial Rental Property Insurance in Florida
Commercial property insurance comes in a few different forms. According to insurance expert Jeffery Green, commercial rental property insurance refers to property coverage needed by commercial landlords. Coverage applies to a landlord's commercial property building and its contents.
Green added that there's also a form of coverage called business rental insurance, which covers a space rented by a business, including the contents of the space and liability issues that may arise on the property during the rental. Landlords often require this coverage, as well.
Vacant Commercial Property Insurance in Florida
Green stated that most commercial property insurance policies in Florida will exclude coverage for vandalism, theft, water damage, and other disasters if a building remains vacant for a specified period of time. Vacant commercial property insurance provides critical coverage for spaces that are vacant long enough to be excluded under standard commercial property policies. This coverage is important because even empty properties can be prone to disasters like fires, etc.
Here's How a Florida Independent Insurance Agent Can Help
When it comes to protecting business owners against lost or damaged commercial property and all other disasters, no one's better equipped to help than an independent insurance agent. Florida independent insurance agents search through multiple carriers to find providers who specialize in commercial property insurance, deliver quotes from several sources, and help you walk through them all to find the best blend of coverage and cost.
https://www.investopedia.com/terms/c/commercial-property-insurance.asp
https://www.iii.org/publications/insuring-your-business-small-business-owners-guide-to-insurance/specific-coverages/property-insurance
chart - https://www.iii.org/fact-statistic/facts-statistics-commercial-lines
©

2022

, Consumer Agent Portal, LLC. All rights reserved.