Does Car Insurance Cover Flood Damage in Florida?
April 19, 2023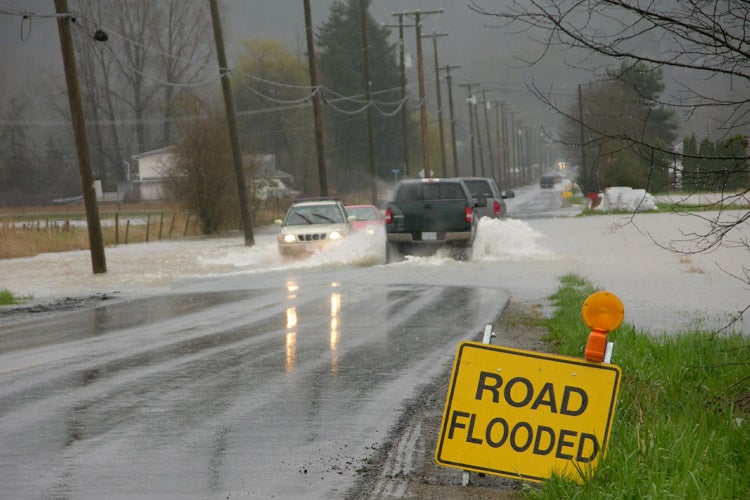 Florida has 19,845,911 residents. If you live in the South, there are a lot of exposures. Will your car insurance have coverage for flood damage?
Fortunately, a Florida independent insurance agent can help answer this question and more. They have access to multiple markets so that you have options on coverage and premiums. Connect with a local expert to get started in minutes.
What Is Flood Insurance?
Flood insurance in Florida is especially important. Since you will be close to large bodies of water and canals, you'll want to be prepared. To obtain the right protection, take a look at how flood insurance can help:
Flood insurance: This type of property insurance covers a structure for losses due to a flood. This is caused by snow melting, storm surges, heavy rainfall, storm drainage system failures, and even levee dam system failures.
The most expensive US flood disasters (in million US dollars)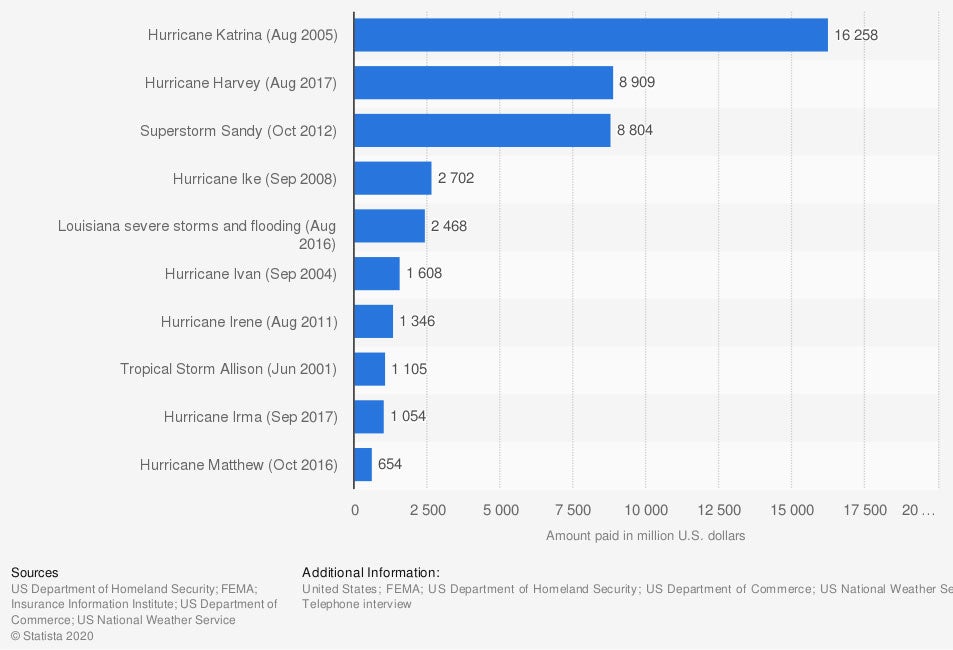 Flood insurance is often overlooked if it's not required. Every property and vehicle is at risk for flood damage, and coverage should be seriously considered.
What Does Flood Insurance Cover in Florida?
Flood damage can be extensive. The necessary coverage should be taken into account when shopping for solutions. Check out what your Florida flood policy will cover:
Electrical and plumbing systems
Foundational elements
Detached garages
Well water tanks and pumps
Solar energy equipment
Personal belongings
What Doesn't Flood Insurance Cover in Florida?
Your Florida auto, home, and commercial insurance will have exclusions. One of them is flood insurance. You'll need a separate flood policy to fill the gap for your home or commercial property. Your vehicles will require a specific coverage limit to be added for flooding. First, you should be aware of what is considered a flood in Florida:
What is regarded as a flood: A flood is an excess of water on land that is usually dry. This typically is classified as affecting two or more acres of land or two or more properties.
Losses that are generally excluded from your flood policy:
Water/sewer back-ups
Burst pipes
Waterline malfunctions
Roof leaks
Does Car Insurance Cover Flood Damage in Florida?
While you may need an additional flood policy for your home and commercial properties, your auto insurance is a bit different. When it comes to having flood damage covered under your car policy, you'll need to add comprehensive coverage. It will usually have a deductible of $500, and when a flood occurs, you'll have protection as long as you have this coverage.
How to File a Claim for Storm Damage in Florida: 2023
When there is a flood loss or other storm damage to your car or home, it's good to have an action plan. When a claim occurs, you may be in a state of shock and unsure what to do next.
The US states with highest number of flood insurance claims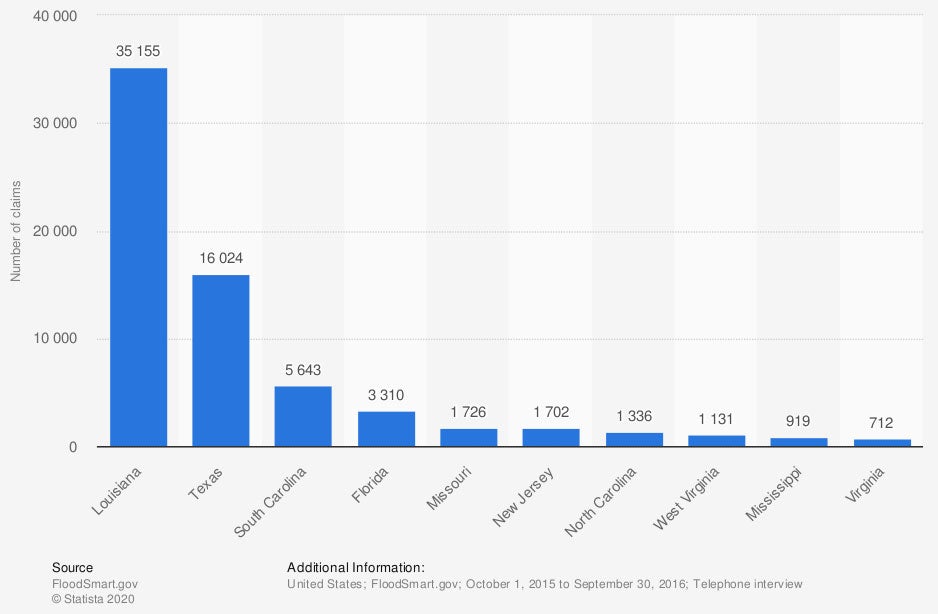 Florida is in the top five on this list, and coverage should be obtained for your protection. You'll want to do the following to file a flood insurance claim when a loss occurs:
Step 1: Get to a safe place.
Step 2: Call your independent insurance agent.
Step 3: Determine with your agent the steps to follow to get temporary housing and a replacement vehicle.
Step 4: Set up a meeting with your assigned adjuster.
How an Independent Insurance Agent Can Help in Florida
The proper protection for your vehicle and other property in Florida should be reviewed by a professional. There are several ways you can obtain coverage, and knowing all your options is key. Flood insurance can be confusing if you're not a licensed adviser.
A Florida independent insurance agent can help you find FEMA-approved coverage for an affordable price. They do the shopping for free so that you can save time and money. Get connected with a local expert on TrustedChoice in minutes.
Graphic #1: https://www.statista.com/statistics/216501/most-expensive-us-flood-disasters/
Graphic #2: https://www.statista.com/statistics/192348/top-10-us-states-for-flood-insurance-claims-2010/
http://www.city-data.com/city/Florida.html
©

2023

, Consumer Agent Portal, LLC. All rights reserved.