How to Prepare for a Hurricane in Florida
March 8, 2020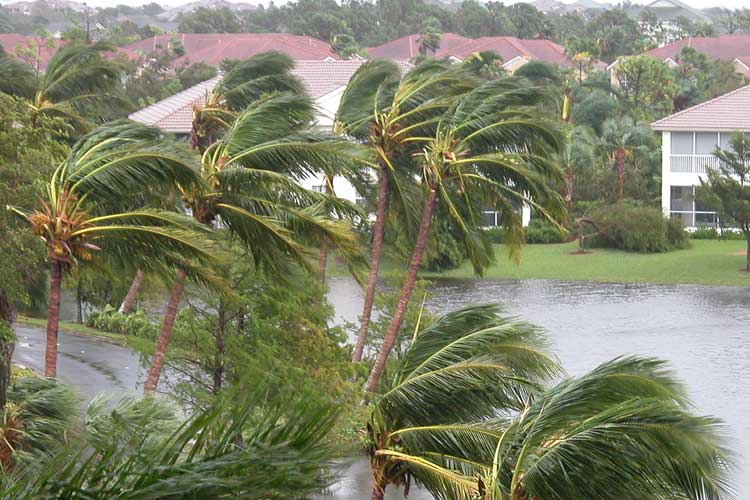 Hurricanes are a type of tropical cyclone or severe tropical storm. Hurricanes form in the southern Atlantic Ocean, Caribbean Sea, Gulf of Mexico, and in the eastern Pacific Ocean. All of the Atlantic and Gulf of Mexico coastal regions, including the state of Florida, are susceptible to hurricanes.
Hurricanes are capable of doing catastrophic damage to coastlines and even several hundred miles inland. They can produce winds exceeding 155 miles per hour, as well as tornadoes and microbursts. They can also cause storm surges along coastlines and heavy rainfall. Most hurricane damage is due to flooding and flying debris.
Keeping your home and family safe during a hurricane takes a great deal of advance planning. First, ensure that you have appropriate insurance coverage in case your home or property is damaged. Second, make and be ready to execute an emergency preparedness plan.
What to Do Before, During, an After a Hurricane in Florida?
The most important thing that Florida homeowners can do is to be prepared. Hurricanes and tropical storms are simply part of life here, so knowing what to do before and after a storm is the best way to protect yourself, your family, and your home.
From an insurance perspective, there are several actions you should take to make sure you are ready for Florida hurricane season. Start by preparing a detailed home inventory and being familiar with your Florida Home Insurance coverage now, so if a storm hits, you will have plenty of time to take care of other preparations and evacuate if necessary.
Preparing a Home Inventory
Preparing a home inventory before a hurricane might seem like overkill, but in reality, it is the best thing to do to ensure you are properly reimbursed for your belongings if you have a loss. If you have a home inventory, you will be able to verify your losses for tax purposes and your claim will likely be settled faster with less red tape.
You can put together your inventory on your own, or you can hire a professional or use specialty software. You can also create a handwritten list or a spreadsheet on your computer. Many insurance companies offer software or apps that help with inventory preparation.
As you prepare your inventory, think of the information you will need if you have to file a claim with your insurance company. The goal is to speed up the claims process and provide complete information so that you can be properly reimbursed. Go room to room, carefully recording items as you go.
Pay special attention to high-value items, and don't forget to list the items in your garage, attic, basement, sheds or other buildings on your property. Provide a brief explanation of each item, including the brand name, model or serial number, as well as receipts or photographs if possible. Also include professional appraisals for jewelry and other high-value items.
When your inventory is completed, make several copies and be sure to keep at least one set away from your home in a secure location. Remember to update your inventory every year before hurricane season. This is also a great time to renew your homeowners insurance coverage with your Florida independent insurance agent.
Other Hurricane Preparation Tips
You should also gather all of your important documents, insurance cards, and policies and store them in a safe place. If you must evacuate for a storm, be sure to take these important documents with you. Be aware of all of your home insurance details, such as coverage limits and deductibles and whether you have replacement cost or actual cash value coverage. It is a good idea to know if your home insurance provides coverage for "additional living expenses" in case you are forced to live somewhere other than your home if it is damaged in a storm.
After the Storm
You will also need to do a damage inventory if your home sustains damage from a hurricane or tropical storm. When the storm passes, photograph or videotape any damage that your home has sustained, if possible.
Don't throw away damaged items or make any repairs until your insurance adjuster has reviewed them. You can, however, make any repairs that are necessary to protect your home and personal property from sustaining any additional damage (e.g., cover broken windows). If you must make some temporary repairs, be sure to record your expenses and save receipts.
How to Prepare Your Florida Home for a Hurricane
Hurricanes can cause a variety of different types of damage to your home. The most common damage to your home from a hurricane or tropical storm is caused by:
Wind
Heavy rainfall
Flooding
Storm surge
Tornadoes
Sewer backup
Preparing before the storm hits is one of the best ways to prevent or minimize the damage.
Fortify Your Roof
Roof damage is the biggest reason for insurance claims after hurricanes. If your roof is damaged, water can get in and soak the insulation, which can lead to ceiling collapse and damage to your furniture and other belongings. If your roof blows off entirely, the likelihood of your walls collapsing and complete destruction of your home is greater.
Here are some things you can do to help fortify your existing roof:
Nail or caulk loose roof tiles or shingles
Check for rust and loose anchoring on metal roofs
Install hurricane straps
Brace the ends of all gables
Install a backup water barrier under the roof cover
Fortify Windows and Doors
Broken windows and doors allow the wind and rain inside, damaging the interior of your home. In addition, once the wind gets inside it will apply upward pressure on the roof, increasing the likelihood of it blowing off.
Hurricane-resistant window and door coverings can include various types of shutters, screens, panels and sheeting, as well as impact resistant windows and doors. You need to protect windows, sliding patio doors, entry doors, and garage doors.
For windows, permanent storm shutters offer the best protection. If that is not the right option for you, simply taping the windows will not work. Use 5/8-inch thick marine plywood cut to fit and ready to install to board up your windows in advance of a storm.
Prepare Your Yard
Much of the damage caused by a hurricane is from flying debris. Common outdoor items can be picked up and thrown by the wind, so don't forget to prepare your yard.
Keep trees and shrubs well trimmed
Clear loose and clogged rain gutters and downspouts
Bring in all outdoor furniture, decorations, garbage cans, and anything else that is not tied down
How to Prepare Your Florida Apartment for a Hurricane
Living in an apartment presents some unique challenges. You not only have to prepare your own living space, but in some ways you're equally reliant on your landlord and your neighbors to work together to make sure that everyone takes the necessary precautions.
Your apartment home should be in good condition and should be a safe place for you to shelter. The following tips from FEMA will help you prepare your Florida apartment for a hurricane.
Bring in any outdoor furniture, planters, and other items from patios and balconies
Get hurricane shutters or panels for your sliding glass doors and windows
Identify your safest room (often an interior bedroom, bathroom, or hallway) and use that for your shelter
Additional steps that Florida apartment residents can take to stay safe before, during, and after a hurricane include:
Stock up on supplies
Steer clear of windows
Get to know your neighbors
Establish an emergency fund
Park your car in a safe area
It's important for renters to regularly evaluate their renters insurance policies in order to understand their hurricane coverage and make any necessary changes.
How to Prepare Your Car for a Hurricane in Florida
With so much to do to prepare for a hurricane, it's possible that you'll forget to make sure that your vehicle is safe and secure. Here are some tips for how to prepare your car for a hurricane in Florida.
Fill up the gas tank or charge the battery: Whether you've got a traditional gas-powered vehicle or an electric, make sure it has enough fuel or a charged battery before the storm. Top off some extra gas cans, too.
Complete routine maintenance: Now is a great time to make sure your car is in good working order. Check your oil, wipers, and tires, and make sure you take care of any outstanding maintenance concerns.
Park somewhere safe: Parking your car safely in your garage is the best way to go if you have that option. You might want to park facing out so you can make an easy exit and more easily avoid debris after the storm.
Take photos and protect your documents: Take photos of your vehicle inside and out before the hurricane to make it easier to file any damage claims. Put all of your ownership, registration, and Florida Auto Insurance papers in a waterproof container along with all of your other important documents.
How to Stay Safe at All Times During a Hurricane
Safety should be the first priority during a hurricane. Don't wait until an emergency to make plans for your safety. Here are some tips from FEMA on how to stay safe during a hurricane.
Protect Your Personal Safety
Remove obstructions from doors, hallways, and exits to avoid falls.
Plan your evacuation route.
Prepare an emergency kit with essential supplies, including a 10-day supply of food, water, and medicine for every member of the family.
Have a backup system for any essential medical equipment that uses electricity.
Home Safety
Know how to shut off your utilities in case of a gas leak or another utility-related safety concern.
Know whether your property lies in a flood zone and make your sheltering plan accordingly.
Identify levees and dams near the area and determine if they could lead to local flooding.
Put an emergency kit inside of a safe room in your home (an interior bedroom or bathroom).
Buy permanent shutters or plywood panels to protect windows and sliding doors.
Check and make necessary adjustments to the structural integrity of your home.
Lock all doors and windows and fully secure your home if you must evacuate.
Install surge protectors to avoid overloading electronic equipment and protect it from power fluctuations.
Follow the manufacturer's instructions when using a portable generator. Generators should be stored outside, as far away as possible from gathering spaces, work areas, windows, doors or open vents.
Install battery-powered carbon monoxide detectors inside your home.
Don't store fuel inside your home.
Fortify Your Surroundings
Trim all trees and shrubs around your home.
Bring all outdoor furniture and other potential projectiles inside your home.
Secure Other Valuable Property
Park your vehicle in a safe area and, if necessary, take it to another location away from possible flooding and falling debris.
Secure all solar panels, satellite dishes, antennas, and water systems with appropriate anchors.
How Can an Agent Help You Protect Your Florida Home from a Hurricane
Reviewing your homeowners insurance is something you should do every year with the help of an independent insurance agent. If you live in a hurricane zone, it is even more important to know what is covered, what is not, and what you need to do to ensure that your claims are handled properly. A Florida Independent Insurance Agent can help you with all aspects of your Florida homeowners insurance.
Invest in guaranteed replacement cost coverage: A guaranteed replacement cost policy pays to rebuild your home regardless of the cost. You should have enough coverage to rebuild your home and replace its contents.
Find out if your Florida homeowners policy provides coverage for additional living expenses: This coverage pays for hotels and meals if you cannot live in your home because of damage caused by a hurricane.
Consider Florida Flood Insurance: Standard Florida homeowners or renters insurance does not cover flood and/or storm surge damage. Flood insurance is available through FEMA's National Flood Insurance Program and by some private insurance companies.
Be sure to understand your deductible: Many homeowners insurance policies issued in coastal states include separate hurricane deductibles. Know whether a hurricane deductible applies to your policy and how it will affect your claim.
If you rent, have renters insurance to protect your belongings from losses due to the storm.
https://www.fema.gov/disaster/4339/hurricane-preparedness
©

2023

, Consumer Agent Portal, LLC. All rights reserved.